Greetings!
Arena of Valor will be available on November for gamers in US & Canada, you can download it for free from Google Play & App Store. Please follow our official facebook fan page to get the latest news about launching date.
We strongly encourage you to go to our pre-registration page on our Google Play Store to reserve a "front row seat". For those who don't have a Google Play account, you can go to our official Arena of Valor website and leave your email address to pre-register for our epic mobile MOBA game! Arena of Valor will notify you of the new version update through the email you used to pre-register with us. This email will contain links to directly download Arena of Valor.
Pre-register now for this epic 5V5 moba mobile game, Arena of Valor!
Join as five, battle as one!

How to pre-register
You can pre-register on GooglePlay by searching "Arena of Valor" and click on the pre-registeration button.
Pre-register on Google Play: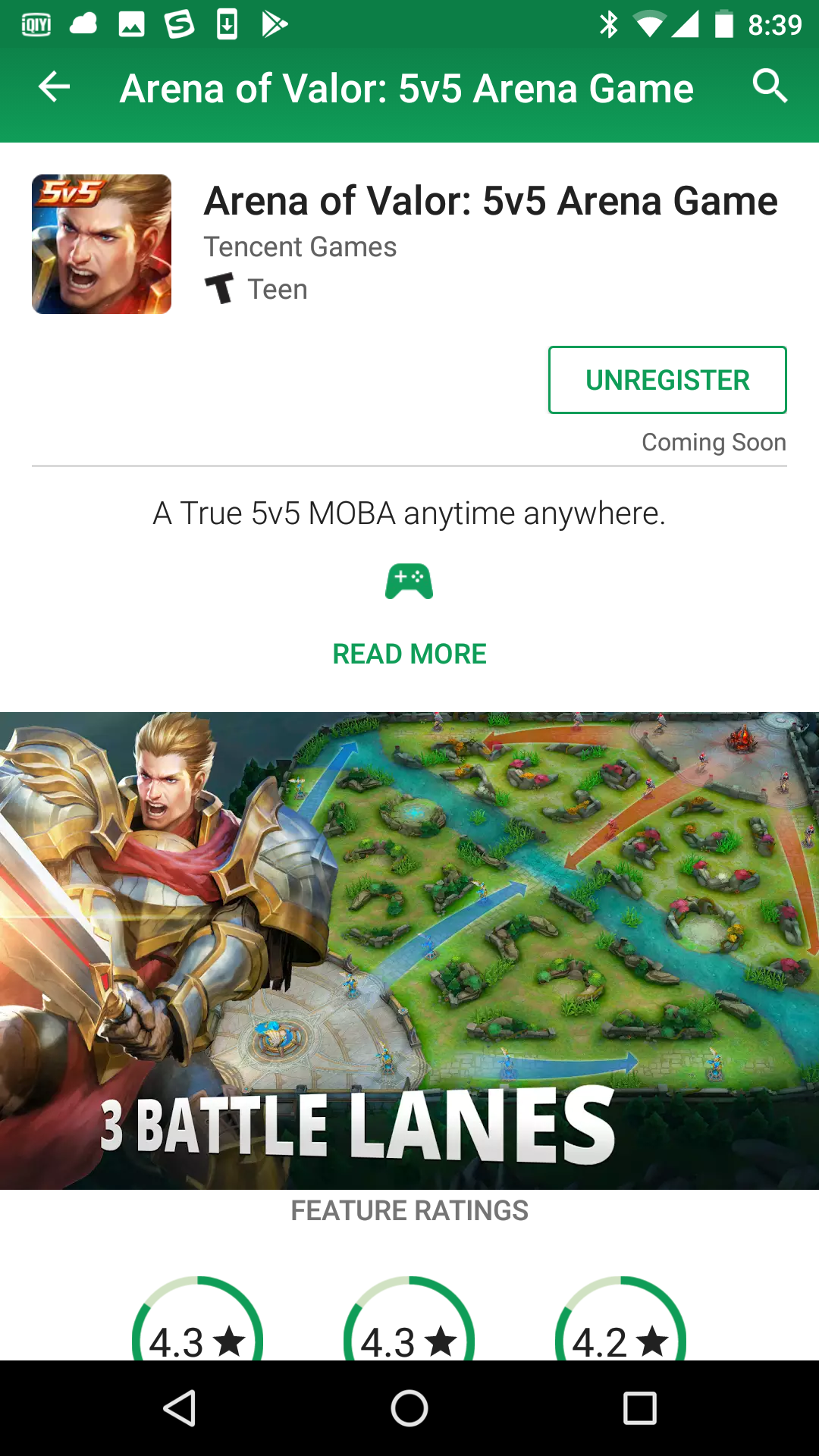 You can also pre-register on our Arena of Valor website.
Pre-register on our official Arena of Valor page:
Pre-register now and get rewards
If you pre-registered at the official website, you can also share that pre-registeration page to get more fantastic rewards!
Limited skin will be give when you finish the pre-registeration, Level 2 Arcana chest will be given when you invite 5 friends to finish pre-registeration! Share with your friends now and together join the NA release celebration!
108 Gems and double-experience card will be given when we hit 100,000 pre-registrations!
Make sure to follow the @ArenaofValor messenger bot on our official facebook page @ArenaofValor to get Fennik 3 days trial card and Rename card!
More details, visit https://www.arenaofvalor.com/preregister
Experience Arena of Valor, an epic new 5v5 multiplayer online battle arena (MOBA) designed by Tencent Games!
Master unique and powerful heroes, like Batman, while teaming up with friends. Create the most dominating team the MOBA world has ever seen! DC LOGO, BATMAN and all related characters and elements ©& TM DC Comics.
Call on your teammates to join you in the jungle! Fight your way out in classic 5v5 combat in real time! Draw first blood, carry your team, and become Legendary in the arena!
* We promise that our website will not automatically store or capture personal information. It only records the information provided by the user and only under the user permission to deal with the information. Once the pre-registration is completed, that data will be deleted.